Brown Halo Human Hair Extension Light Volume

ABOUT HALO
Halo is one of the easiest-to-wear extensions for adding length and volume to your natural hair. It is the safest and most convenient form of human hair extensions and all you need to do is secure them to your head with a wire— no clips, tape, glue, weaves, or beads required.
LENGTH: 16-24 INCH

100% human hair extensions

Easy and quick application

Blends well with your natural hair

Adjustable fish wire fits most kinds of head shape

Lightweight, comfortable to wear all day long

Heat resistant and can be styled just like your real hair

Can by dyed to a darker shade

No clips, no glue, no damage
1. Prepare a basin of water(≦40℃) and apply proper amount of mild shampoo.
2. Put the hair pieces into the water and comb it gently from bottom to the top.
3. Rinse the hair with clean water and let the water flow down along the hair.
4. Dry the hair with a towel and apply conditioner.
5. Blow the hair extension with hair dyer until medium dry and then leave it dry naturally.
1. Please use wide-toothed comb to brush the fish line hair extension.
2. To detangle the knotted hair, please brush it from end to root.
3. A slight shedding is normal after first washing.
4. Hand washing only, washing machine is prohibited.
5. Usually Longer length than your hair is not recommended, but if your're not sure, a longer one can be trimmed.
6. There may be slight color difference because of inevitable influence like light and environment, we are ready to provide professional advice and help you choose the suitable color
No Clips, No Glue, No Damage
Halo Hair Extensions
Attach in 3 easy steps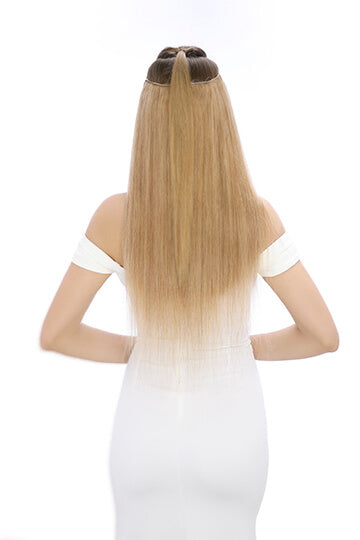 STEP 1
Whip up 1/3 of your hair then put on the extensions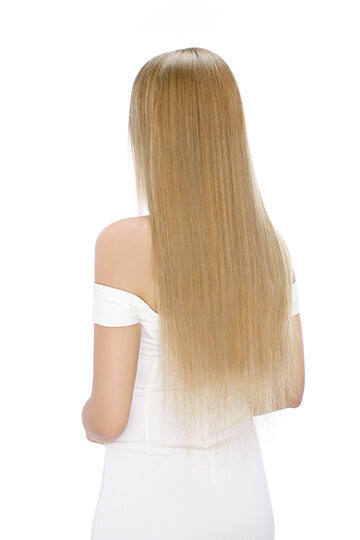 STEP 2
Put down the whip up hair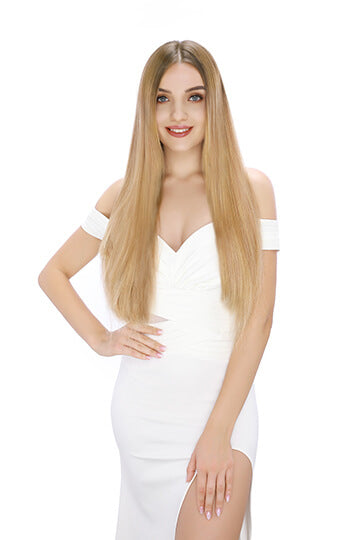 STEP 3
Adjust the position and comb your hair to hide the wire.
Our halo hair extensions are available from 16 to 24 inches. These versatile length options can be used to create a wide range of hairstyles, while still maintaining a natural-looking blend.
Absolutely! One of the best things about halo hair extensions is that they are designed to blend seamlessly with your natural hair. The secret is in the clear band that sits at the crown of your head, which allows the extensions to blend in with your tresses effortlessly. However, it's important to choose extensions that match your natural hair colorfor the most natural-looking results. You'll also want to spend time blending and styling your extensions to ensure fantastic results.
Halo hair extensions and clip-in extensions are both great options for adding length and volume to your hair, but they go about it in different ways. Halo extensions are attached to a clear band that sits at the crown of your head making them comfortable to wear and less damaging to your natural hair. On the other hand, clip-in extensions are applied by clipping them into your natural hair, which can be more time-consuming and can cause more damage over time.
Short hair, don't care! Even if you have shorter locks, halo hair extensions can still be a great option for you. The clear band that sits at the crown of your head makes it easy to blend the extensions seamlessly with your natural hair. Keep in mind that the extensions will add length to your hair, so if you have very short hair the extensions may be noticeable. But with a little styling magic, you can make it work.
Caring for your halo hair extensions is crucial to keep them looking their best. First, keep them clean by brushing them regularly to prevent tangling. Make sure you use a wide-toothed comb. Use a sulfate-free hair care products, and be sure to avoid sleeping with the extensions in. Keep them dry when you're not wearing them and follow the instructions provided by the manufacturer of the hair extensions you are using. With proper care, your halo hair extensions will look beautiful for a long time.
Absolutely loved this product! Bought it to add extra length and volume to my hair and it worked like a dream! The halo was super easy to use and style! Feels exactly like my natural hair and held a curl all through the night! 100% recommend to anyone looking to add volume and length to their hair without the damaging effects of salon extensions. You wont be disappointed in this product!
The hair is soft and lightweight, beautiful and the halo was comfortable to wear. It blended perfectly with my natural hair. I have thin hair so if you want thicker hair I'd suggest buying 2 but I'm incredibly happy with my purchase.