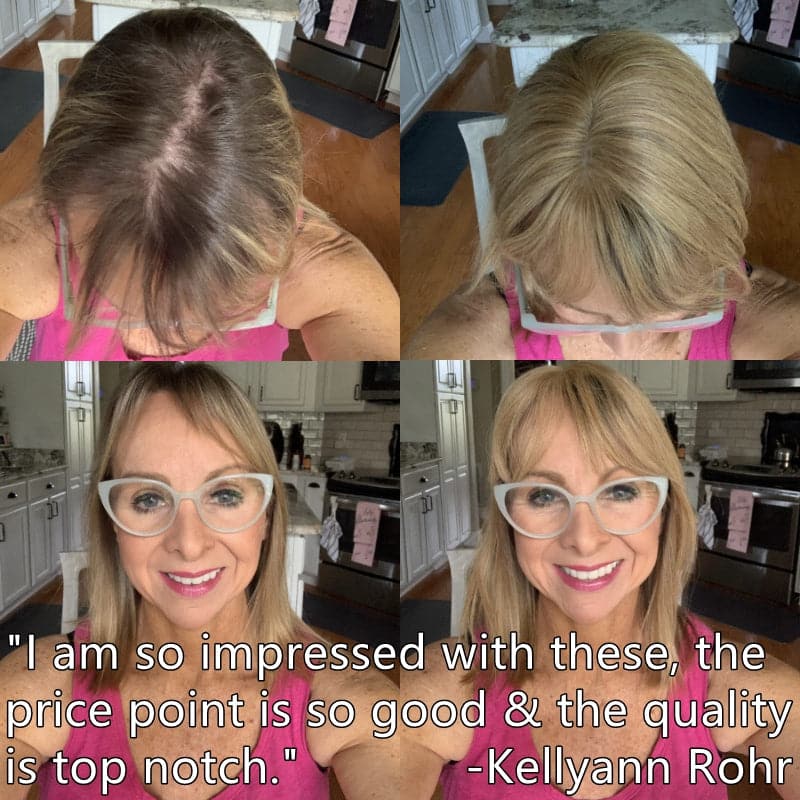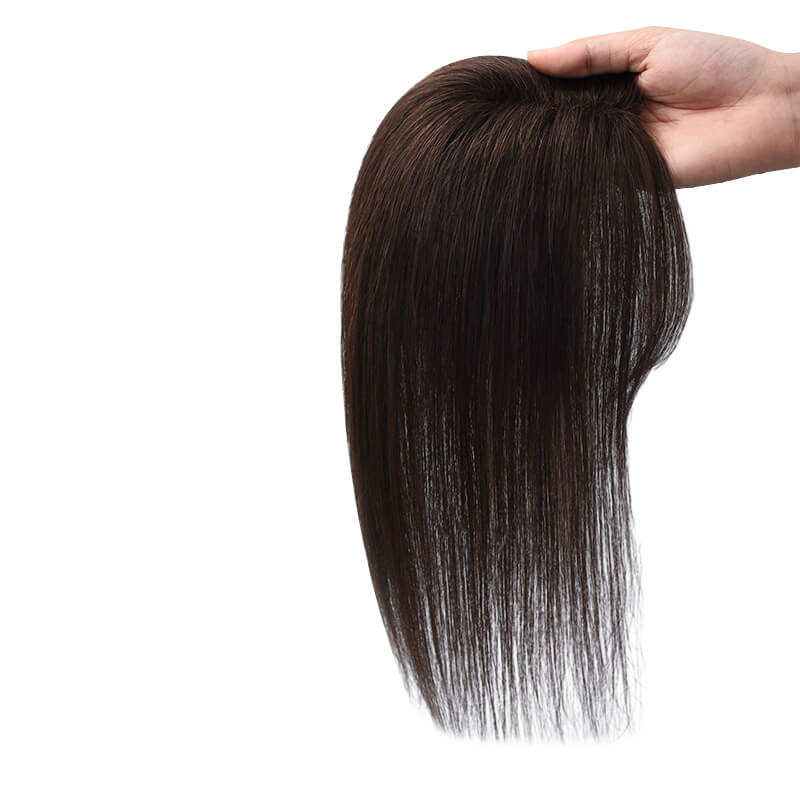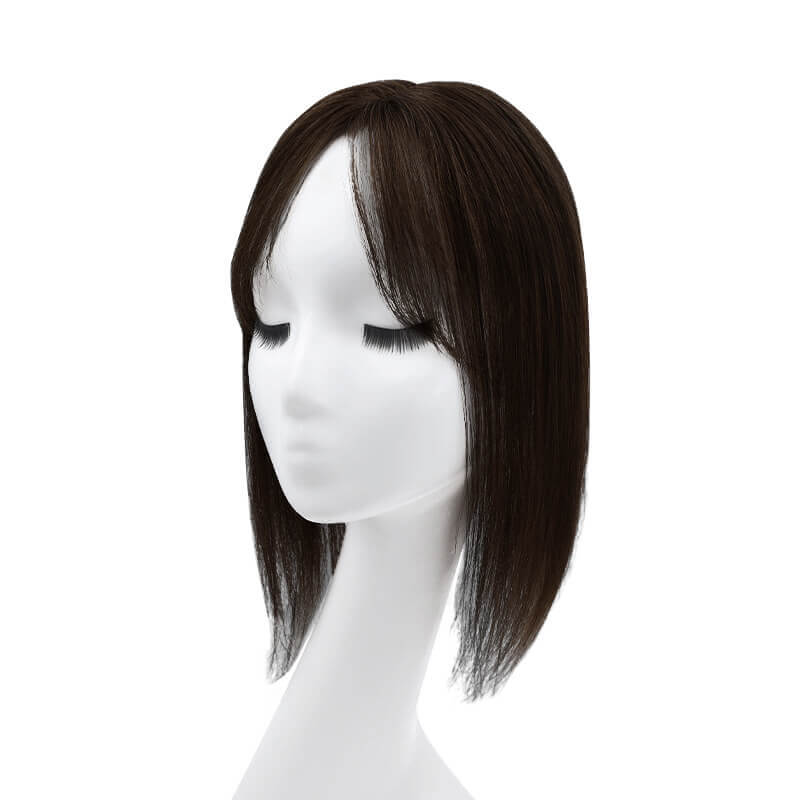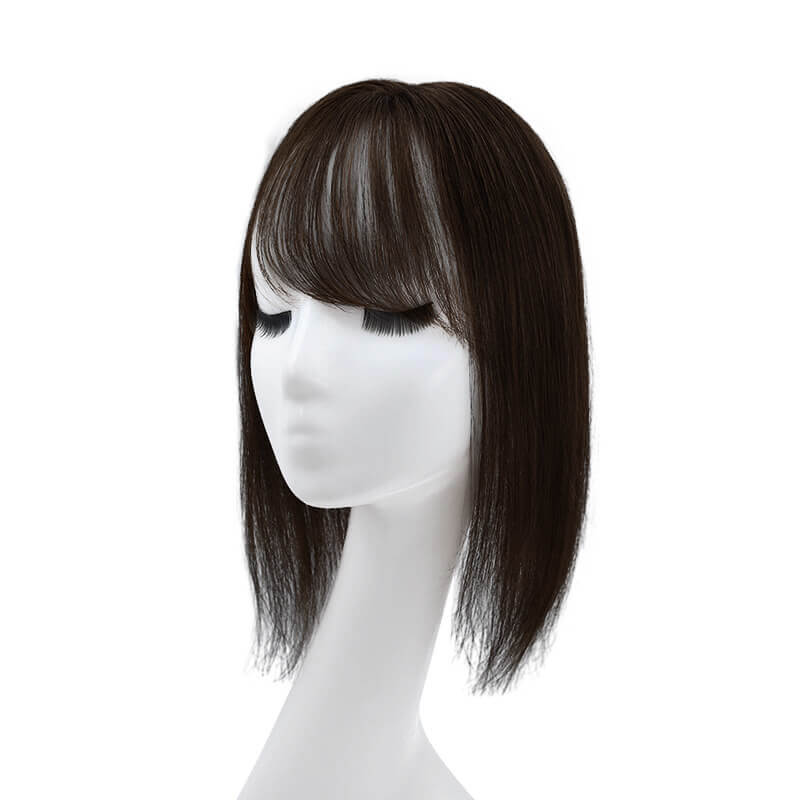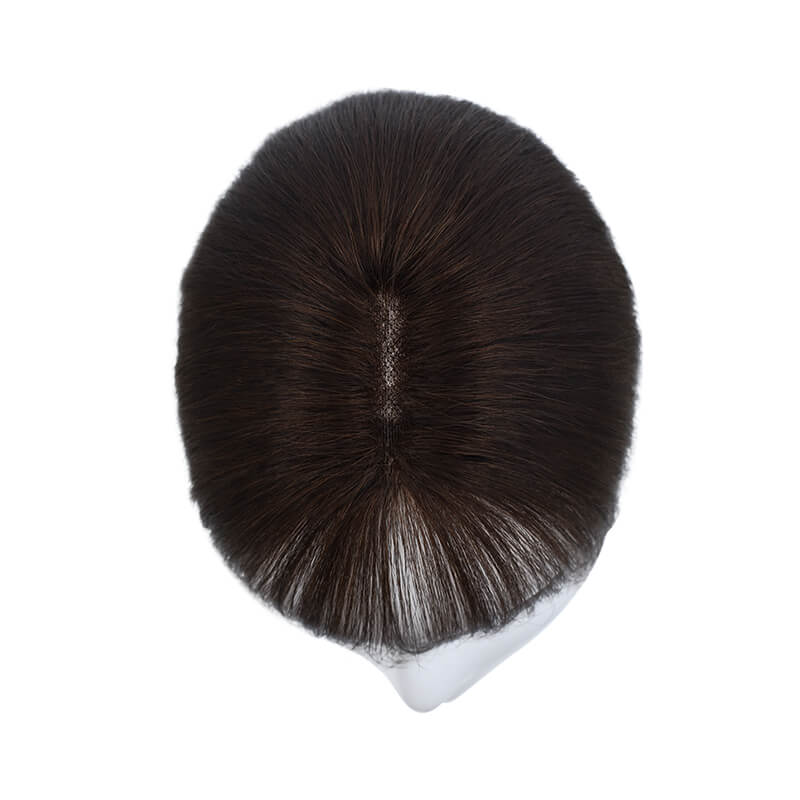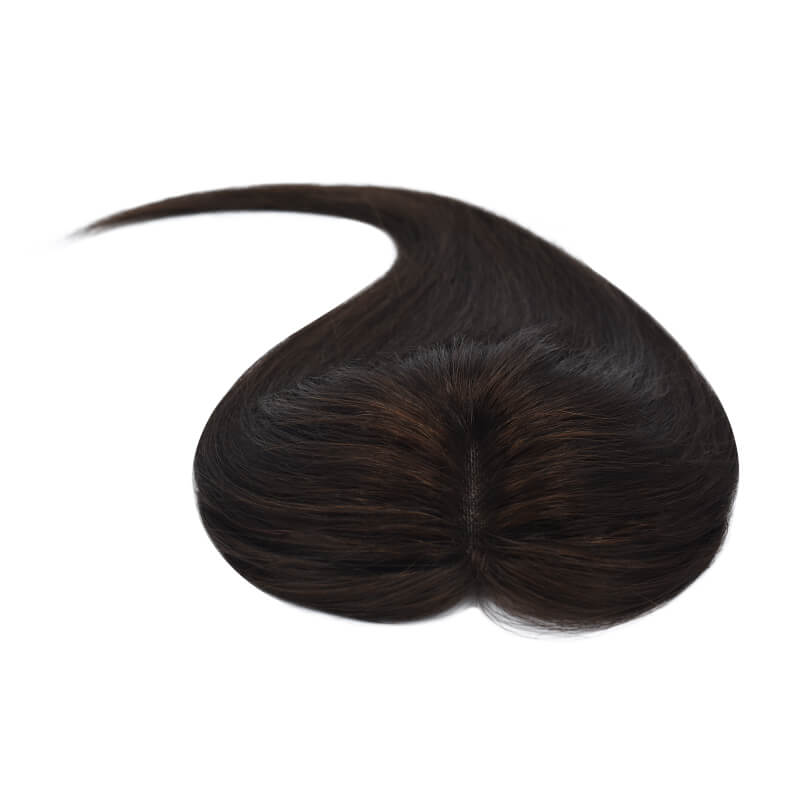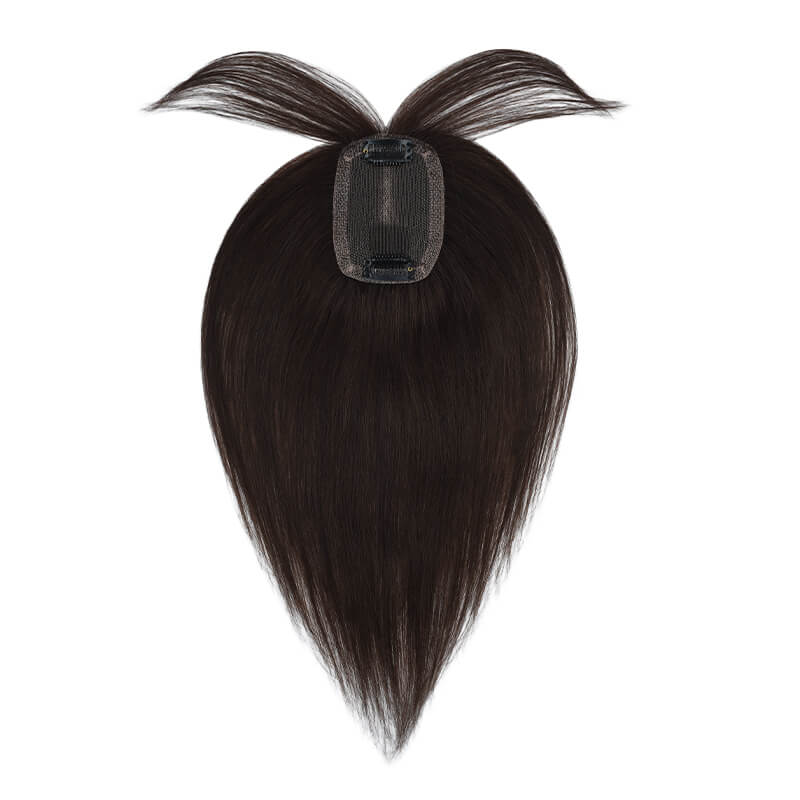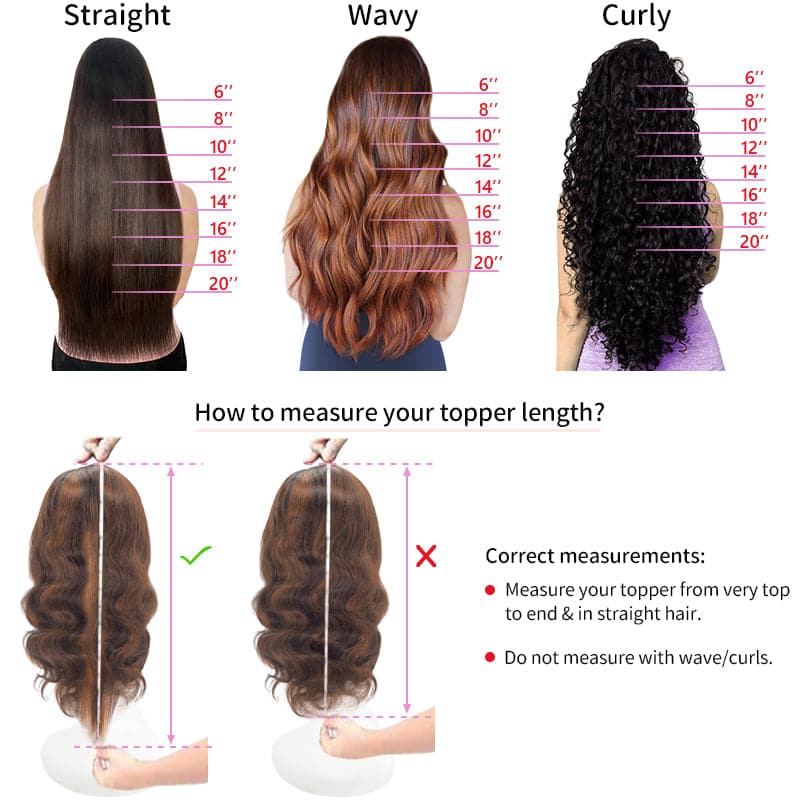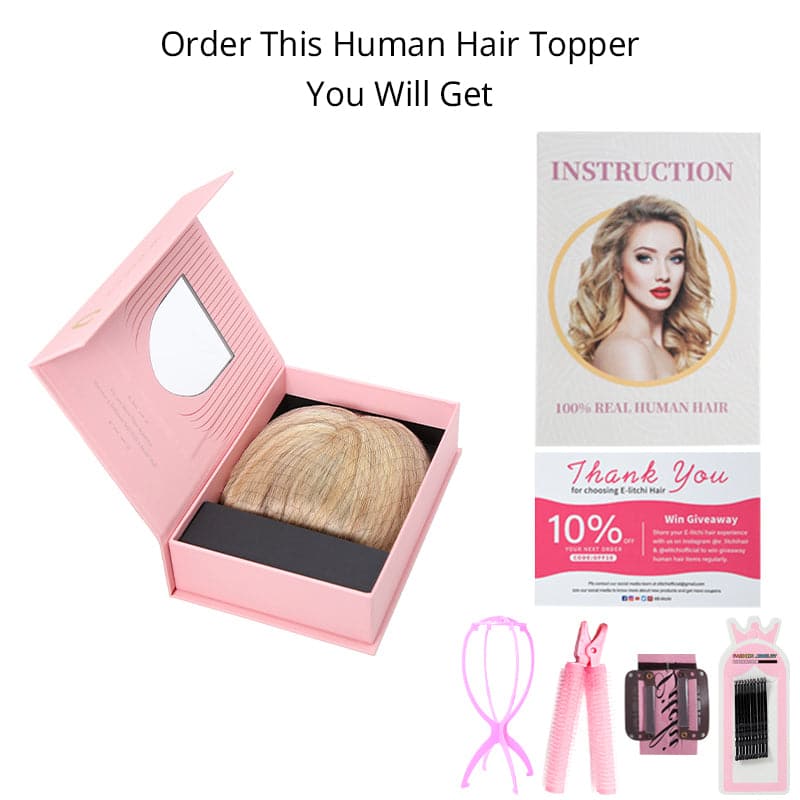 Daphne ︳Human Hair Topper With Bangs For Thin Hair 6*9CM Lace Base Dark Brown

This topper with bangs features a full lace base that creates a realistic hairline and allows for off-the-face styling. Its bangs help to ensure a natural-looking hairline.
With it, you can have a variety of hairstyles. You can sweep the bangs to the sides, blow out wispy bangs with a hair dryer or tie it into a ponytail. Put on this distinctive hairpiece and you'll look youthful and attractive. 
(Not your crown sizes? Click here to choose)
Full Lace Base: C

reates a natural looking hairline and allows for off-the-face styling

Base size is 2.4 X 3.5 INCH
Free parting for natural appearance
Length: 12 inch
100% human hair 
Seamless clip on application
150% Density, 

blend well with your own hair 

Comfortable to wear all day long with only two clips
Heat resistant, can be straighten, curled and dyed like your real hair
Clips are removable, if needed leave a note. We have

 

tapes for it as well
Human Hair Topper For Women
Our hair topper is designed for individuals with a fast-paced lifestyle who value the convenience of achieving a cohesive look in seconds. It is particularly suited for working moms and professionals who require a quick and effortless styling solution throughout their busy day.
How to Wear the Hair Topper?
1.Open all of the pressure sensitive clips.
2.Put the topper on your head, and then secure the front clip on 1-2 inches behind the front hairline. Lightly press the topper base to make it smooth, and then secure the back clip(s).
3.Keep the topper base smoothly extend while tightly connect to your head.
4. Comb and blend your hair. Style it to get a perfectly hairstyle as you like
I have been looking for a natural looking hair topper for years to cover the white hair/thinning hair on top of my head. Finally I found one.
When I first received it, it's kind flat. Since it's real human hair I rinsed it with water and blow dry with low heat, gently brushed with my hair brush, it looked so fluffy and natural. I wore it whole day yesterday and I almost forgot that I had it on.
My original hair is a little darker, I'm going to dye it darker to match with my hair. I hope they have 12" toppers, so I can do a nice ponytail.