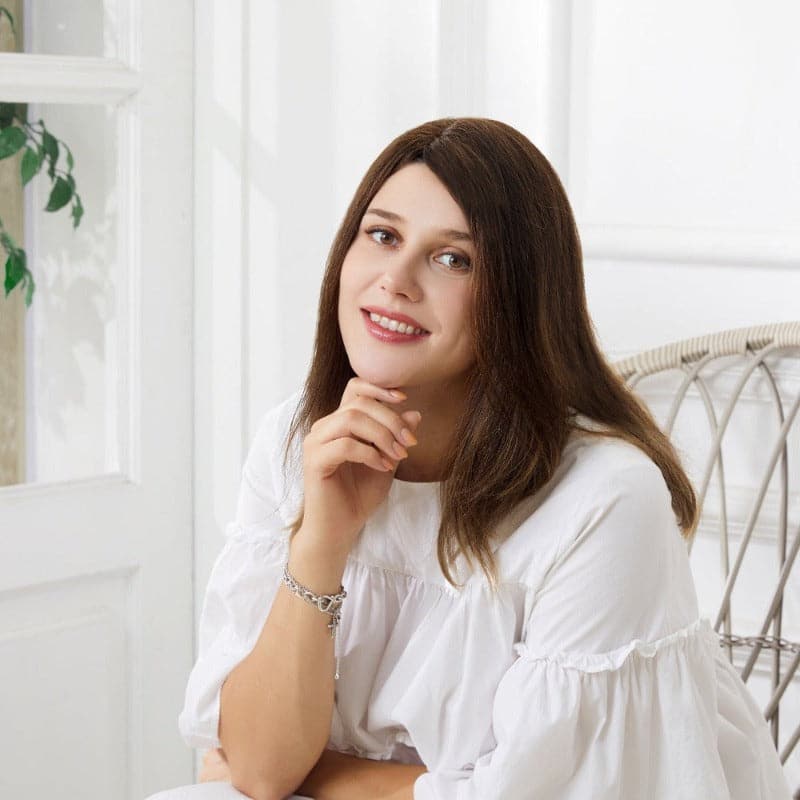 Human Hair Topper For Women Thinning Crown 7*13cm Base All Shades

Hairpiece With Bangs for women who is thinning at the middle crown area and wanna hide the white hair roots or balding skin. It's definitely a better choice compared with heavy wigs. (Not your crown sizes? Click here to choose)
Base

7*1

3

cm(2.7*5inches) 

Density

150%
Advantage
Can be straightened, curled, dyed to a darker color and restyled as your own hair
Package

Topper * 1   Wig Stand * 1

   Hair Root Fluffy Clip * 1 

Bob Pin * 1   Clips*2   

Card *1

   

Manual * 1

Tax
Tax included in the price
It is easy to put on and my friends state that they can not even tell that I am wearing it! My hair is fine and thin and is starting to thin out. The hair topper stays snug on my hair all day! It is easy to style. I use my flat iron on it while it is in my hair and I have no problems with it. I provided pictures without, with and outside so that you can see the difference it makes and how natural it looks! Great topper!
It is super natural delicate hair I recommend it is extraordinary for the price it is worth it is 100% human hair 100% satisfied
My hair is thin, especially on the top. Light brown was ordered, the color was about what I expected. I took it to my stylist to color my hair to match the hair piece. It was also shaped /cut a little for the bangs and length. I am more than satisfied with the outcome, especially at this price. I do not often flat iron or curling iron it, but the hair piece can handle the heat. As I am older, an additional benefit is it covers my grey roots between coloring. From my personal experience--- do not hesitate.
My girlfriends talked me into this. My hair has been falling out thanks to menopause, heredity and maybe Covid . No fun.
Aside from it needing thinning (get some thinning shears), this topper was surprisingly well done. The part looks great. The color match was surprisingly good (this has been my biggest challenge with aggressively highlighted hair). Even my husband couldn't tell I was wearing it, except he thought I fluffed up my (menopausal thinning) hair. Sent pics to my friend and she couldn't tell. Forgive the quality of pics. I didn't try styling yet. I have never tried anything like a hair topper before and I'm pretty excited to give it a try:).
Great for thinning on crown.
This is my first hair piece. It's a great thing for lightly thinning hair on the crown, but if thinning is more pronounced, then a bigger piece will be needed. I shampooed and blow dried the piece before putting it in. I sprayed a little dry shampoo on it to cut the shine. I messed up the part a little bit so it didn't look so perfect. It blended well and feels comfortable. There's a little more red highlight in the hair than I like, so I will probably tint it a little to make it blend better. I added some before and after photos to demonstrate how it covers thinness. I can also put my hair up in a claw clip while wearing this piece for a little variety.
I got the most compliments from people. Nobody even knew that it was a hair topper unless I told them .it looks totally natural and blends in perfect with my hair...and I'm not one of those people that are good at using hair pieces. So, if I can use one and put it on and it looks natural. ...anyone can!