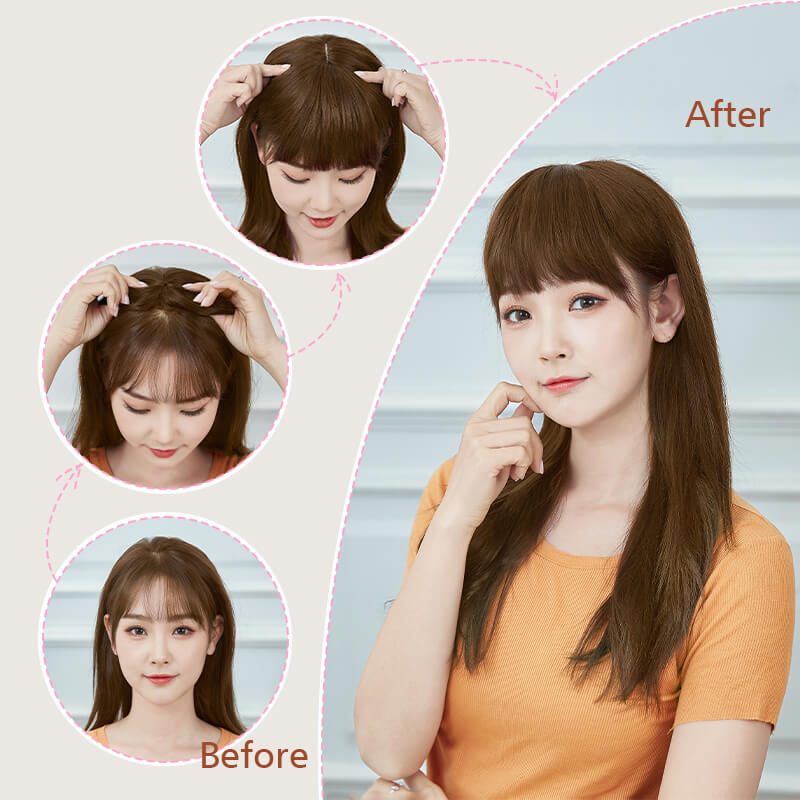 Human Hair Topper With Bangs For Thinning Hair 15*15cm Base All Shades

Hairpiece with bangs for women who is thinning or balding for a large area but less than 6"*6". If you have been wearing wigs and wanna try hair toppers, this is the best choice. Pick your perfect shade from our black, brunette, blonde, red and highlights. (Not your crown sizes? Click here to choose)
Base

15*15 cm

(6*6inches) 

Density

180%
Advantage
Can be straightened, curled, dyed to a darker color and restyled as your own hair
Package

Topper * 1   Wig Stand * 1

   Hair Root Fluffy Clip * 1 

Bob Pin * 1   Clips*2   

Card *1

   

Manual * 1

Tax
Tax included in the price
I wasn't expecting much for the price point but it actually looks pretty good! These pics were right out of the bag and I can probably work with it a bit to make it look more realistic.
Me gusta que se ve muy real, nunca eh usado pelucas por que temo que luzcan falsas, pero esta si me ah encantado, y es solo un pequeño relleno, Gracias, voy a comprar de diferente colores
It looks so natural, and it blends well with my thin dark brown hair. I even applied to it highlight colours at my hairdresser and it looks so nice. I am wearing it every day! I highly recommend it!
I wish they have one with a side part, no bangs!
I was impressed. Got this topper to wear with my tapeins because my hair is so short I can't hide the extensions. They blend well. They aren't very thick so I would not recommend for adding volume. Very versatile I can wear them with a bun and pull in the longer hair that falls to the back. Real hair so they Style well with heat. I recommend these to anyone who wants bangs but doesn't want to cut their hair and to anyone trying to cover hair loss.
There is no doubt in my mind that this is indeed 100% human hair. It feels very soft and healthy. I got this because my hair is thinning, and is especially noticeable around my hair line. I've tried many wigs but never feel comfortable wearing them out because it looks like I'm wearing a wig, which isn't really the look I'm going for. I was skeptical about this hair topper, but was shocked how much it DOES NOT look like I'm wearing a wig. It looks and feels just like human hair. The part is incredibly real looking. It looks just like my scalp. I got the #2 Dark Brown and it's a pretty good match to my actual brown color. The bangs are a little long for me so I plan on trimming them. Once I straightened this piece, I couldn't tell the difference between it and my hair.
I am so glad I got this hair topper. If you are contemplating getting it, most likely because you are experiencing thinning like me, go for it! It makes a huge difference! It's easy to put in, blends into my hair, and looks and feels real. I'd definitely recommend it!