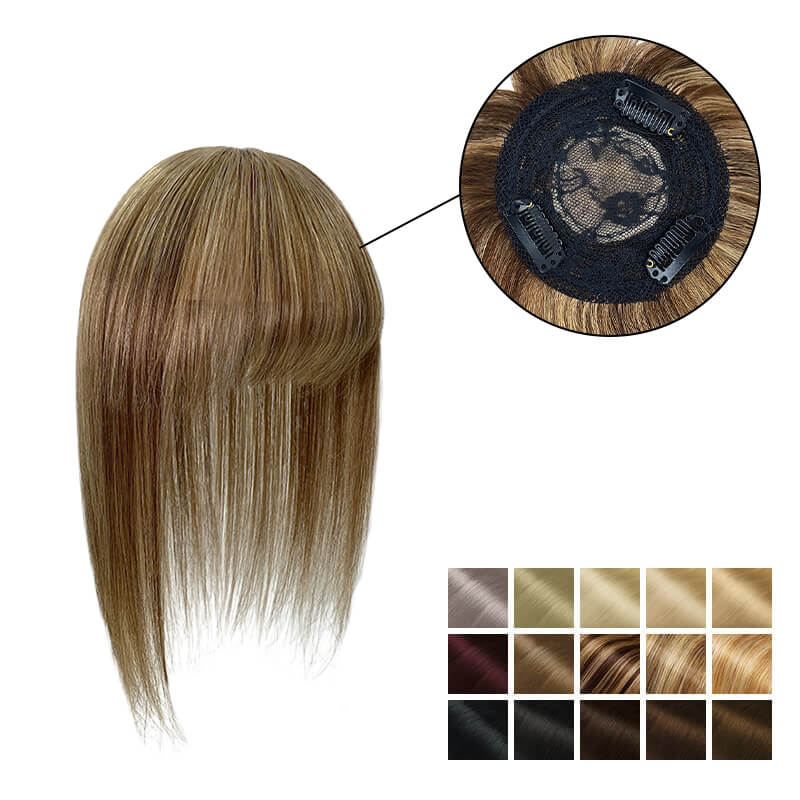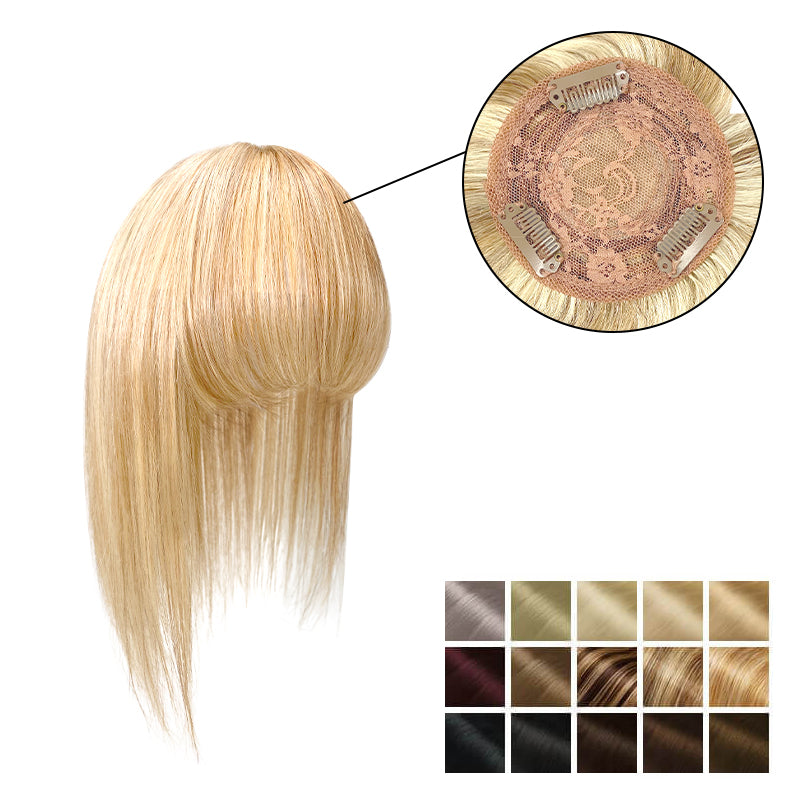 Human Hair Topper With Bang For Women Thinning Crown 10*10cm Base All Shades

Hairpiece With Bangs for women who is thinning at the middle crown area and wanna hide the white hair roots or balding skin. It's definitely a better choice compared with heavy wigs. Pick your perfect shade from our black, brunette, blonde, red and highlights. (Not your crown sizes? Click here to choose)
Base

10*1

0

cm(4*4inches) 

Density

150%
Advantage
Can be straightened, curled, dyed to a darker color and restyled as your own hair
Package

 Topper * 1   Wig Stand * 1   Hair Root Fluffy Clip * 1 Bob Pin * 1   Clips*2   Card *1   Manual * 1

Tax
Tax included in the price
It's been well over five years since I last had bangs and I've missed them so instead of giving myself the usual impulsive chop, I decided to give this piece a try. I was anticipating having to return it because I was almost positive that it wouldn't be real hair, would be too thin and/or the color would be way off. To my surprise, although it's still just a smidge thin for my liking, it looks well balanced. It's virgin human hair and very soft, not my exact hair color but looks quite close and isn't noticeable to anyone else. I also thought for sure that I'd have to cut the longer side pieces off but they actually help blend it in with my real hair and are easily tucked behind my ears depending on the style I'm going for. Overall pretty happy with this piece and would recommend it for anyone in need of a quick hairstyle change without having to cut your real hair!
Well run
Very well run and best communicating company I ever dealt with.
My hair is thinning on the top and this is the perfect little piece to cover it up. I was very impressed with the quality of the hair and would definitely recommend it for someone that needs a little body.
Chic bangs,The one I 've always been looking for!
Affordable bang and light hair piece.
I may get another for back up. :)
Great and affordable hair
I loved everything about this hair, loved the texture, the look, the length, this truly is a must buy!!!!
I will be taking this to my stylist to trim the ends to match my chosen hair length. But that's it! I think I can manage the flyaways with better styling in time. But overall I am very impressed. The three clips are very stable. I blow dried it on my head using a round brush and it didn't budge.
If you have thinning hair in the front like me, this is really perfect! I could never have that much bulk on the front sides and bangs of a bob cut. I will buy another one to make wavy for "natural" hair days, and leave this one for blow straight days. Totally worth the money!