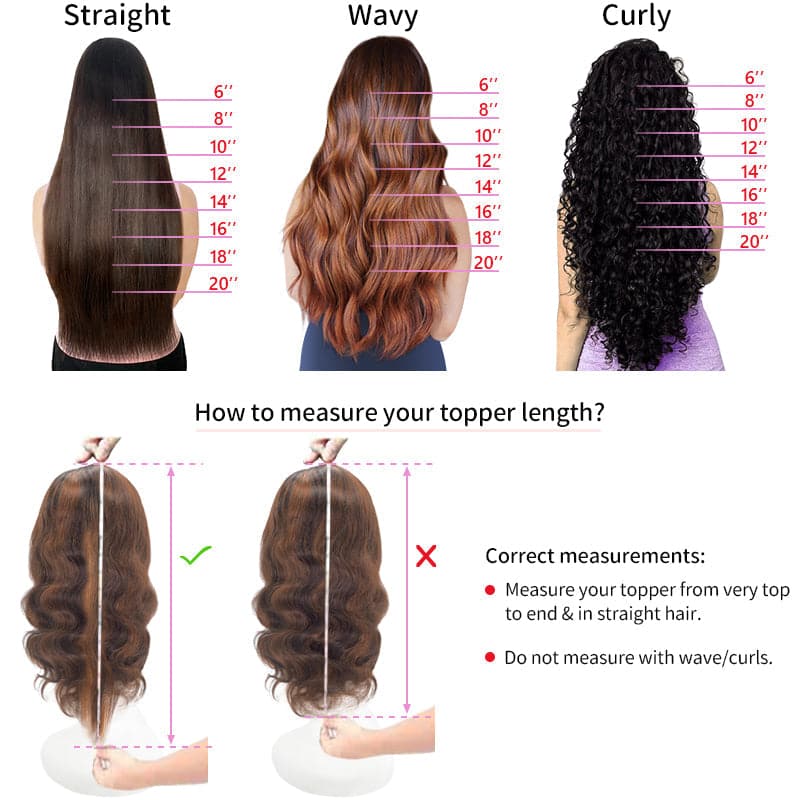 Lily ︳Mono Base 3x5" Human Hair Topper For Thinning Hair Blonde Ombre
Color:
#8T613 Chestnut Brown|Bleach Blonde

Imagine waking up each morning with the hair you've always wished for, without the fuss or frustration. Our MonoBase Hair Topper is your secret weapon to achieving the locks you've dreamed of, whether you're dealing with hair thinning, loss, or just desire that extra volume and oomph.
Mono Magic: Our Mono Base is the heart of this masterpiece, featuring a nearly invisible 3x5" monofilament base and 130% density. It looks exactly like your natural scalp, ensuring that your secret stays safe!
Real-Hair Realness: Crafted from 100% real human hair, this topper promises a seamless blend, unparalleled softness, and a natural shine. The result? Hair that looks and feels just like your own.
Secure & Comfortable: No more itching, slipping, or sliding. Our topper comes with secure clips for a snug fit, allowing you to enjoy all-day comfort without care.
Unlimited Styling: Experiment with curls, straightening, or waves; our topper can handle it all, making it the ultimate accessory for your hair journey. It has free parting, which gives you endless styling possibilities.
Confidence Unleashed: Get ready to turn heads, receive endless compliments, and take center stage in your own life. This is not just a topper; it's a confidence-boosting, life-changing experience.
Pls note it's a pre-sale item and will be sent out in 4-6 weeks. Once you place the order, it can't be cancelled and returnable. (Not your crown sizes? Click here to choose)
A Mono Base features individual hairs tied to a breathable, light-permeable mesh. This Monofilament Base enables versatile parting for natural styling and offers exceptional durability and longevity.
Comfort: The Monofilament Base is soft, comfortable, and suitable for those with sensitive scalps, including those undergoing chemotherapy or dealing with skin issues.
Natural: The Mono Base mimics the look of natural hair growth and allows for versatile and free hair parting for styling.
Breathability: The Mono Base offers a smooth and comfortable feel, though it may not be as breathable as the Lace Base because of its tighter weave.