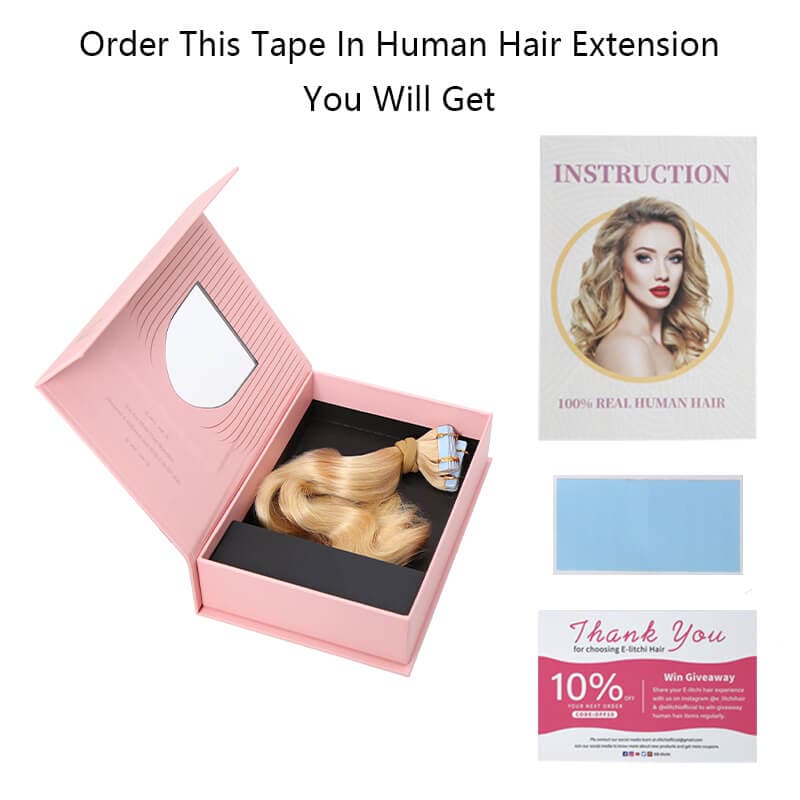 Wavy Tape Ins For Thin Hair 20pcs All Shades
Color:
#18P613 Ash Blonde/Bleach Blonde

ABOUT TAPE-INS
Tape-in extensions are one of the most popular hair extension in the word due to them being so quick and easy to apply, lightweight and virtually invisible as they lay flat to the head. They are suitable for all hair types from very fine hair to thick. Simply use our replacement tape after 4 to 6 weeks to keep your beautiful self very happy. 
LENGTH: 16-24 INCH
HAIR TYPE:

 

100% Remy human hair
TAB WIDTH:

 Each piece is 1.5 inches wide

NUMBER OF PCS: 10 individual pieces per pack, with 10 pcs replacement tabe
LONGEVITY:

 

4 to 6 months, reusable 3 to 4 times with replacement tape
ADVISED QTY:

 2 

packs for 

volume, 3-4 or more for a full installation

Easy and quick application

Blends well with your natural hair

Heat resistant and can be styled just like your real hair

Can by dyed to a darker shade
Washing
Wash your hair extensions with warm water and sulfate-free conditioner.
Trimming
Human hair extensions will easily get split ends. Trim the ends every 10 days.
Styling
Please ensure that the flat iron or curling iron is at a temperature below 180°C, and stay on the hair for 5-10s each time.
Dyeing
If you must have to dye, it is better to dye the hair from light to dark. Please consult the professional stylist for help.
Yes, tape-in hair extensions can be styled and treated just like your natural hair. You can use hot tools such as curling irons and straighteners, and apply styling products like hairspray and mousse. However, it's important to use a low heat setting and be gentle when styling to avoid damaging the extensions.
Not much at all! A daily brush to prevent tangles and knots, plus a sulfate-free shampoo and conditioner to keep your extensions clean and healthy is all it takes. For extra shine and softness, we recommend using a leave-in conditioner or serum.
Yes, they can! In fact, tape-in extensions are a popular choice for people with fine hair because they are gentle and don't cause as much damage as other types of extensions. Just make sure to consult with a professional stylist to ensure the weight and length of the extensions are suitable for your hair type.
Yes, you can! Whether you want to match your natural hair color or try out a fun, bold shade, you can use hair dye to color your tape-in extensions. Just keep in mind that the extensions may not take color as well as your natural hair, so it's best to consult with a professional stylist before attempting to dye the extensions. To help preserve the color, use a color-safe shampoo and conditioner.
Installing tape-in hair extensions can be a challenging and complex process that requires a high level of skill and experience. If you are not a trained professional, you may struggle to properly match the color of the extensions to your natural hair, leading to a look that is unnatural and obvious. Additionally, if the extensions are not installed correctly, they can cause damage to your natural hair or even fall out, leaving you with a patchy and uneven appearance. It is generally best to leave the installation of tape-in hair extensions to the professionals, who have the knowledge and expertise to ensure that your new hair looks natural and is applied safely.